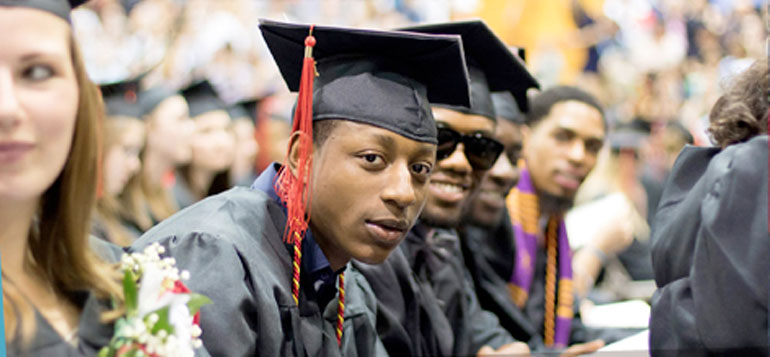 On May 14th 2016, at SUNY Plattsburgh's Spring Commencement, the State University of New York conferred the degree of Doctor of Humane Letters (Honoris Causa) on Dr. Michael Hawes, Chief Executive Officer of Fulbright Canada. Presented by Dr. John Ettling, President of SUNY Plattsburgh, the honorary degree was awarded in recognition of the longstanding contribution that Dr. Hawes has made to the students, faculty, and staff at SUNY Plattsburgh and to the broader community of Plattsburgh New York.
Dr. Hawes was recognized, according to the degree citation, for his "continued support of SUNY Plattsburgh [and their] shared endeavor to promote mutual understanding between the people of Canada and the people of the United States". Dr. Hawes specifically recognized his ongoing relationship with the Center for the Study of Canada and with its Director Dr. Christopher Kirkey. With a focus on innovative programming for Canadian studies, the center has been enriched by a variety of educational exchange opportunities, such as the Fulbright Canada Visiting Research Chairs program.
Dr. Hawes was especially honoured to deliver the commencement speech at both ceremonies on May 14th, recognizing SUNY Plattsburgh graduates in the arts, sciences, education, nursing, and business. His message, simply put, focused on the importance of relationships in an increasingly complex world and on the value of focusing on support and mutual understanding.
Dr. Hawes noted that this generation of graduates have an exciting journey ahead, and that they have high expectations, but advised that "it will not always be easy." The world has undergone a transformation that requires a deeper appreciation of the importance of meaningful connections. Recent graduates have to contend with a dramatically increased flow of information and social media, they have to recognize that politics in the United States has become extremely polarized, and, more discouragingly, that they live in a world where frustration and violence are increasingly common. According to Dr. Hawes, this generation of graduates needs to pay special attention to skills and qualities that will assist them in building meaningful relationships based on support and understanding – a critical ingredient for success. These include effective networking, collaboration, influence, negotiation, leadership skills, and kindness.
Fulbright Canada sends its sincerest congratulations and best wishes to the graduates of SUNY Plattsburgh and to graduates across both countries. We know you will rise to the challenge!