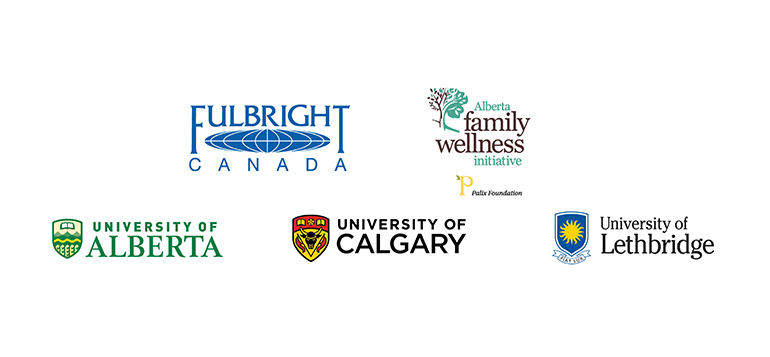 Following the end of a successful inaugural year, Fulbright Canada, the Palix Foundation, Alberta Family Wellness Initiative is proud to announce the 2016-2017 Fulbright Canada-Palix Foundation Distinguished Visiting Research Chairs in Brain Science, and Child and Family Health and Wellness. To mark the start of the second year for the program, the University of Calgary will host a panel discussion and networking reception on September 28, 2016. The event will provide an opportunity for the three Chairs to present their research and discuss how their time in Alberta will allow them to build partnership and explore new directions in their work.
Fulbright Canada and the Palix Foundation's Alberta Family Wellness Initiative work closely with Alberta's three world-class research-intensive universities - the University of Alberta, the University of Calgary, and the University of Lethbridge – to allow extraordinary American scholars and top-tier applied researchers to engage in a residential exchange and conduct collaborative research in Alberta. With a focus on supporting research and building relationships that can have a direct impact on health and wellness outcomes in Alberta and beyond, their research is based on current brain science about the effects of toxic stress on children, families, and lifelong health and wellness outcomes, in particular those related to mental health and addiction.
According to Dr. Michael Hawes, CEO at Fulbright Canada: "As we head into the second year of this innovative and important program, we are confident that these visiting scholars will be as impressive and impactful as their predecessors, who managed to collaborate on leading edge research while, at the same time, engaging and supporting a variety of communities in Alberta. This initiative is such a positive example of how partnerships – in this case between the Palix Foundation, Alberta's three leading research universities, and Fulbright Canada – can lead to measurable positive outcomes."
Fulbright Canada and the Palix Foundation's Alberta Family Wellness Initiative are proud to welcome the recipients of the Fulbright Canada-Palix Foundation Distinguished Research Chairs for 2016-2017:
Dr. Patrick J. Carnes is an internationally known authority, bestselling author and speaker in the field of sex addiction and recovery issues. He will conduct research, entitled "Gene Polymorphism and Sexual Addiction Phenotype: An Exploratory Analysis", at the University of Alberta. His research will identify the specific gene variants associated with the behaviors and typologies of sexual addiction, draw parallels to other substance and process addictions, and help to understand the sexual addictive process and its interaction with psychological disorders.
Dr. Lloyd 'Chip' A. Taylor is Professor of Psychology at Citadel, the Military College of South Carolina. He will conduct research, entitled "Knowledge and Resilience as Protective Factors for Bullying and Ostracism among Children and Adolescents with ADHD", at the University of Calgary. His research explores the relationship between chronic illness in pediatric populations and incidences of ostracism and bullying. He is particularly interested in the risk and resilience factors that might ameliorate bullying and ostracism among children diagnosed with Attention Deficit/Hyperactivity Disorder.
Dr. John P. Ziker is Professor and Chair in the Department of Anthropology at Boise State University. He will conduct research entitled "Childhood Trauma and Addiction and Mental Health Outcomes in the NLSCY: Direct Epigenetic Effects or Behavioral Responses to Compromised Phenotypes", at the University of Lethbridge. His research explores pathways to mental health disparities with the Canadian National Longitudinal Survey of Children and Youth (NLSCY). The analysis will consider how maternal conditions, traumatic social events, and childhood social relationships affect brain development, in particular addictions and depression. The goal is to discover whether or not such behavioral responses are adaptive or if they are best seen as pathological or constrained outcomes.
Fulbright Canada
Fulbright Canada is a binational, treaty-based, non-governmental, not-for-profit organization with a mandate to identify the best and brightest minds in both countries and engage them in residential academic exchange. Fulbright Canada's mission is to enhance mutual understanding by providing research support to outstanding individuals. In doing so, Fulbright Canada aims to grow intellectual capacity, increase productivity, and assist in the shaping of future leaders. Since 1990, over 1500 students and scholars have participated in Fulbright Canada's prestigious residential, academic and cultural exchange program. Fulbright.ca
For more information, please contact:
Martha Vrany
Executive Assistant to the CEO
Fulbright Canada
(613) 688-5521
Palix Foundation, Alberta Family Wellness Initiative
The Palix Foundation is a proactive private foundation that established the Alberta Family Wellness Initiative (AFWI) in 2007. AFWI aims to mobilize and connect synthesized scientific research about early brain and biological development (i.e. brain science) to better understand and address how intergenerational factors as well as experiences in children's lives as they grow and develop impact on their health and well-being throughout life, in particular on mental health and addiction. Since its inception, AFWI has engaged with change agents and leaders in health, human services, justice, education, academia and community sectors to develop and support a multitude of activities in early childhood development, mental health and addiction meant to ultimately bring about positive, evidence informed change in policy and practice for the benefit of children and families. Albertafamilywellness.org
For more information, please contact:
Kim Ah-Sue
Program Officer
Palix Foundation – Alberta Family Wellness Initiative
(403) 648-2208