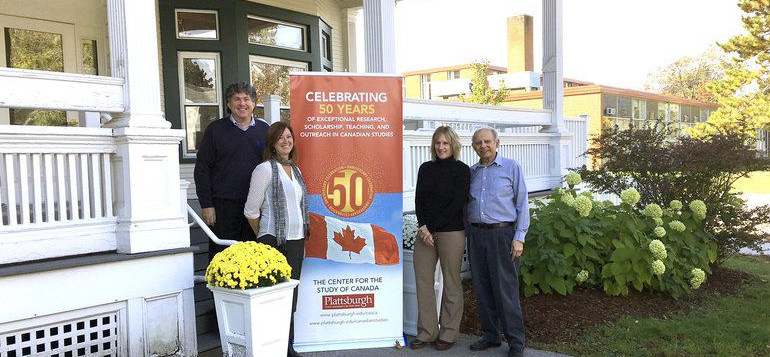 Since 1966, the Center for the Study of Canada at SUNY Plattsburgh has been conducting leading edge research about Canada and promoting the importance of understanding Canada in the United States.
The Center has become a widely respected nationally designated resource center on Canada by the United States Department of Education. Through the Center's Canadian Studies program, countless K-12, undergraduate, and graduate students have had the opportunity to learn about the politics, history, culture, and economy of Canada.
Fulbright Canada CEO, Dr. Michael Hawes, has had an ongoing relationship with the Center for the Study of Canada and with its Director, Dr. Christopher Kirkey, both through their scholarship and with respect to joint programming. Their co-edited book, Canadian Foreign Policy in a Unipolar World, published this month by Oxford University Press, will be featured at the gala.
Together with Fulbright Canada, the Center and its programs are enriched by a variety of educational exchange opportunities such as the Killam Fellowship Program, allowing undergraduate students to study in Canada, and the Fulbright Canada Visiting Research Chairs program that allows the university to host a Distinguished Chair in Quebec Studies.
Fulbright Canada sends its sincerest congratulations to SUNY Plattsburgh, the Center and its partners. The 50th Anniversary celebration will be attended by Dr. Michael Hawes, CEO Fulbright Canada, who will deliver the Distinguished Canadian address, and by other Fulbright Canada representatives.
Read more about the 50th Anniversary: Canadian Studies marks 50 years of success
For more information contact:
Alanna Blackie DeMos
Coordinator – Recruitment and Alumni Relations
(613) 688-5514