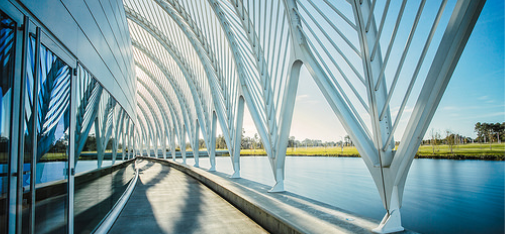 The Killam Fellowship Program provides a unique opportunity for American and Canadian undergraduate students to spend time at a host institution in the other country. Students can identify institutions and locations that would enhance their overall undergraduate experience. Whether it is an American Political Science student looking to study in Canada's political center, Ottawa, or a Computer Engineering student looking to study in Florida's High-Tech Corridor, their education can reach a new level when they incorporate this fellowship abroad. Canadian Killam Fellow (2015-2016), Stephanie Gaglione, highlights the impact this experience can have:
"The Killam Fellowship experience is nothing short of transformational. It provides students with the opportunity to set foot in a new world and to cultivate knowledge in an academic field through the lens of our nearest neighbor. Whether immersing yourself in American history or exploring the translation of health technology from lab to clinic, Killam fellows are encouraged to consider their studies with a cross-cultural perspective. The combination of a fascinating academic experience, new city, and a strong Killam community produces a memorable undergraduate year."
Fulbright Canada is pleased that Stephanie will be attending the University of Oxford as a 2017 Rhodes Scholar to continue her studies in bioengineering.
The Killam Fellowship Program is an opportunity that has the ability to empower young leaders and, through exchange abroad, helps to cultivate and open minds in a way that increases the potential for great innovations, successes, and cultural understanding that can, in turn, positively impact our two countries and world. However, none of this is possible without the support and commitment of the Killam Fellowship Program partner universities.
We are pleased to announce three recently welcomed Killam Fellowship Program partner universities:
Fulbright Canada is pleased to expand its valued partnership with Florida Polytechnic University. The partnership will prove to benefit both undergraduate students, through the Killam Fellowship program, and scholars through the establishment a Fulbright Canada Research Chair to conduct research and teach at Florida Poly. Dr. Terry Parker, Provost at Florida Poly, expressed his vision for the partnership: "Fulbright Canada's commitment to developing future leaders and enhancing mutual understanding through learning and research is well aligned with Florida Poly's mission to train the next generation of high-tech leaders in the fields of technology and engineering. Working together, we can offer students and faculty even more opportunities for success."
A host to Fulbright Canada Research Chairs and an annual international conference in collaboration with Fulbright Canada, UH Manoa is a long standing and valued partner to Fulbright Canada. We are pleased to add the Killam Fellowship Program to the list. The Dean of the College of Social Sciences, Denise Eby Konan, expressed her excitement and reiterated the value for students, "The fellowship is a unique undergraduate experience that offers our students, as well as Canadian students, the opportunity to gather together and discuss issues of strategic, global importance, while also learning about themselves and connecting with others."
Fulbright Canada is excited to announce that Miami Dade College (MDC) is our newest partner in the Killam Fellowships program. Apart from learning at a novel and exciting Miami-based institution, Canadian students can experience the many features of South Florida, known to many as the "Gateway to the Americas." MDC's campuses in the region will give students the opportunity to live and explore the rich cultural and historic dimensions of the city. This year, two students from MDC, Claudia Ferrero and Heidis Alonso Sanchez, both first-generation Americans, received the Killam Fellowship. Claudia will be attending Mount Allison University in New Brunswick, while Heidis will take classes at Acadia University in Nova Scotia. Fulbright Canada wishes Claudia and Heidis the best during their time in Canada this coming year!
Fulbright Canada would like to thank our partner universities in both countries for their continued support. We are truly grateful for your involvement!