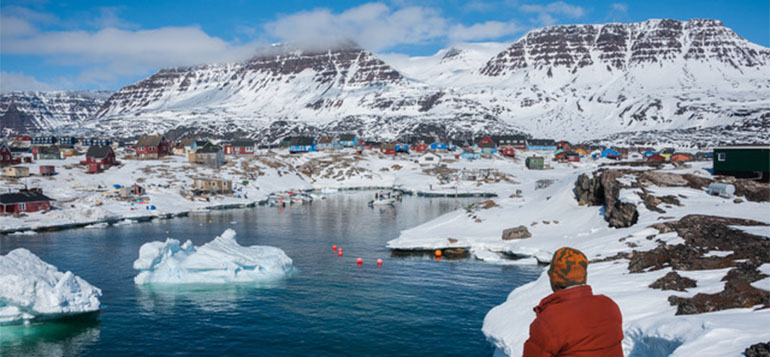 The Fulbright Arctic Initiative aims to bring together a network of leading scholars, professionals, and applied researchers from each of the Arctic Council member states to conduct collaborative research on key arctic issues. The goal being to bridge the gap between theory and public policy; in turn, setting the groundwork for finding practical and internationally collaborative solutions to critical arctic issues. The initiative provides scholars with an opportunity to engage in innovative research with a focus on people and communities of the Arctic in areas pertaining to resilient communities and sustainable economies.
Resilient Communities:
The Arctic is facing profound social, economic, and environmental change and communities are increasingly confronted with critical policy challenges related to issues of health and wellness, energy resource management, environmental protection, sustainability of the Arctic Ocean, infrastructure, indigenous rights, education, and regional governance. Further research is needed on ways to build social resilience in communities to adapt to changes across the Arctic. This research should focus on and ideally involve Arctic communities themselves and consider the application of indigenous knowledge to help inform policy at local to regional scales, as well as multi-disciplinary research to bring differing or complementary viewpoints.
Sustainable Economies:
The rapid changes in the Arctic Ocean system resulting from sea ice decline, changes in water conditions, and increasing shipping and energy production have significance for Arctic nations, global markets, and coastal communities. The economic impacts of environmental changes and globalization in the Arctic, together with the region's expanding connections to the global economy, require research to address how commercial opportunities can be supported and balanced with the need for sustained subsistence livelihoods in Arctic communities.
"I feel like I really won the professional jackpot in being selected for FAI. It was like getting two Fulbright experiences wrapped into one: the personal exchange visit and the collaborative work and lifelong network that emerged from being part of an international team of scholars. I gained tremendously, both professionally and personally, from participating and count this among my most rewarding experiences as a scholar."
– Dr. Noor Jehan S. Johnson, Fulbright Arctic Initiative Scholar, Smithsonian Institution to the University of Alberta, 2015-2016
Application Deadlines:
Canadian (International) Applicants – October 16, 2017 - How to Apply
American Applicants – October 30, 2017 - How to Apply
For more information, please contact:
Alanna Blackie, Coordinator, Public Affairs and Alumni Relations
[email protected] / (613) 688-5514