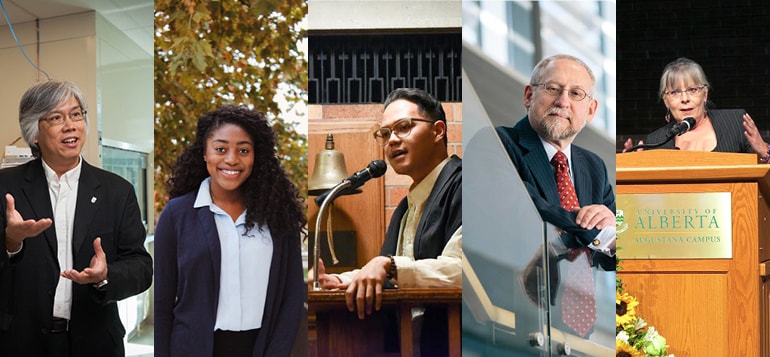 Fulbright Canada is proud to announce our newest cohort of outstanding students and scholars. The prestigious Fulbright award is granted to highly accomplished individuals who are both exceptional scholars and engaged community leaders. We are certain that they will, each in their own way, advance our knowledge of critical social, economic, and scientific issues while, at the same time, helping us to enhance mutual understanding between our two great countries.
The Fulbright Program, based on the principle of reciprocal academic exchange, provides awards to both American and Canadian students and scholars to study or research in their neighbouring country. The program gives them the opportunity to work with new colleagues and experience a new environment, creating opportunities to build connections that have the potential to foster innovation, extend collaborative research, and a build a deeper understanding of both their academic field and their neighbouring country.
I am both pleased and proud to be in a position to support this stellar group of academics and wish them all the very best as they start what is sure to be a exceptional experience and an important moment in both their personal and their professional lives. Dr. Michael K. Hawes, CEO Fulbright Canada
Scholars
Fulbright Canada Scholars are distinguished by their commitment to advancing knowledge in their chosen discipline and having a positive impact on the professional, local, and global communities that they serve. Although each scholar is extraordinary in their own right, a couple of examples seem in order here. Dr. G.L.A. Harris, a political science professor from Portland State University, will take up the Fulbright Canada - Carleton University Research Chair in North American Integration. She will continue her research on equity with a focus on women working in the military. Dr. Philippe Lynes, a philosopher and humanist from Concordia University, will take up the Fulbright Canada Research Chair in Environmental Humanities at the University of California, Irvine. His research in continental philosophy and the environmental humanities will highlight the interdisciplinary applicability of philosophical insights to answer questions of ecological sustainability, leading to a more just relationship with the environment.
Students
Fulbright Canada Students, whether pursuing an MA degree or a PhD or conducting independent research, are all promising early career scholars and researchers with proven abilities in their field. These individuals have shown exceptional promise and they are driven to have a positive impact. Ms. Camila Rivas-Garrido, who is from the University of Guelph, will take up her award at Vanderbilt University. Her research examines home-grown radicalization and the experiences of Muslim youth, through participatory community-based research, in order to inform policy at the local level in Canada and the Unites States. Mr. Vishwas Rao, from North Carolina State University, will take up his award at McMaster University. He will examine major issues facing human health and wellness; including, antibiotic resistance caused by resistance enzymes.
We are very pleased to welcome the cohort 2017-2018 Fulbright Scholars and Students to the Fulbright Canada Community!
Complete listings of the cohort:
Fulbright Canada is a bi-national, treaty-based, non-governmental, not-for-profit organization with a mandate to identify engage exceptional scholars and students in reciprocal academic exchange. Fulbright Canada is firmly committed to community development, to diversity, and to the development of mutual understanding. The Fulbright Canada alumni that continue to demonstrate excellence and promote mutual understanding between the people of Canada and the United States, are a testament to the value of international education and international collaborative research.
Featured in the photograph (left to right):
Dr. Laurie H. M. Chan, Fulbright Scholar, the University of Ottawa to the University of Washington
Ashley Ezema, Fulbright Student, Johns Hopkins University to the University of Toronto
Adrian DeLeon, Fulbright Student, the University of Toronto to the University of Hawai?i at M?noa
Dr. Paul Finkelman, Fulbright Scholar, the University of Pittsburgh to the University of Ottawa
Dr. Roxanne Harde, Fulbright Scholar, the University of Alberta to Vanderbilt University
For more information, please visit www.fulbright.ca or contact:
Alanna Blackie DeMos
Coordinator – Public Affairs and Alumni Relations Coordinator
(613) 688-5514