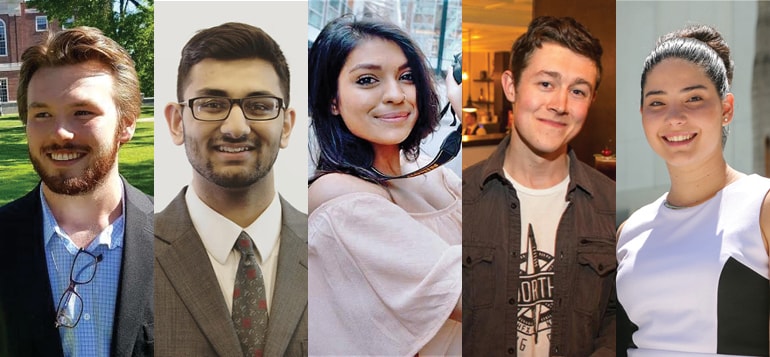 Since its inception in 2002, the Killam Fellowship program has provided exchange opportunities to over 400 outstanding undergraduate students throughout Canada and the United States of America. This year, Fulbright Canada is especially proud to announce the 15th Cohort of Killam Fellows – each of them exceptional students who understand the value of making a positive difference in their communities.
The Killam Fellowship Program provides a unique opportunity for undergraduate students in Canada and in the United States to spend time at a university in the other country. Whether it is a Canadian political science student experiencing the high pressure life in Washington D.C. or a American engineering student looking to work with world class scholars at Montreal's McGill University, the program gives students the opportunity to experience new and exciting realities that are both professional and personal.
Liliana Zigo, a rising senior studying Public Health and Psychology at American University, will be spending time at University of Toronto. Liliana goal is to earn a PhD. Her research, which will focus on issues surrounding homelessness, will ultimately allow her to develop evidence-based interventions and then work with others to encourage effective implementation.
Kayla Hozjan, a Canadian student from Montreal studying filmmaking at Concordia University, will be spending her grant period at California State University, Fullerton. Kayla hopes to continue her love of writing and film, focusing her sights on her dream of working in the film industry.
The goal of the Killam Fellowships program is to identify, engage, and support a group of truly exceptional young men and women as they set out to make the world a better place. I am confident that each one of these students, who have shown so much promise, will benefit greatly from the adventures that await them ... and, in the end, all of us will benefit from them.
Dr. Michael K. Hawes, CEO Fulbright Canada
A complete listing of the cohort:
Killam Fellows for 2017-2018:
Fulbright Canada is a bi-national, treaty-based, non-governmental, not-for-profit organization with a mandate to identify engage exceptional scholars and students in reciprocal academic exchange. Fulbright Canada is firmly committed to community development, to diversity, and to the development of mutual understanding. The Fulbright Canada alumni that continue to demonstrate excellence and promote mutual understanding between the people of Canada and the United States, are a testament to the value of international education and international collaborative research.
Featured in the photograph (left to right):
Lucas Yoder, University of Maine to Université de Montréal; Milan Dave, McMaster University to University of Texas at Austin; Vagisha Agrawal, University of Calgary to City University of New York; Sanford Jones, University of Ottawa to Bridgewater State University; Heidis Alonso Sanchez, Miami Dade College to Acadia University

For more information, please visit www.fulbright.ca or contact:
Alanna Blackie DeMos
Coordinator – Public Affairs and Alumni Relations Coordinator
(613) 688-5514