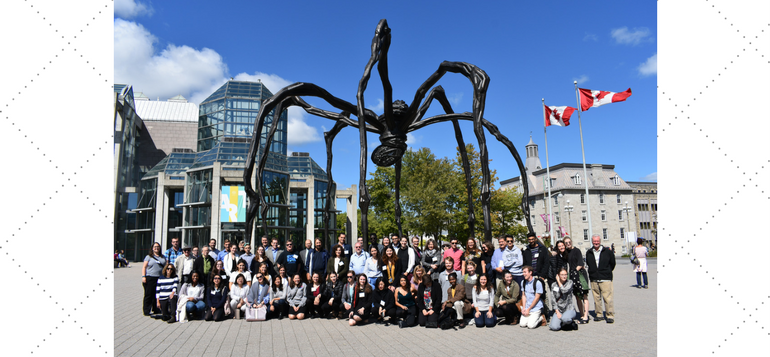 Dear Fulbright Canada Community,
This has been an exciting, productive, and impactful year for the Fulbright Canada community. We have much to be collectively proud of. The Fulbright program continues to support outstanding scholars and students, as does the Killam Fellowships program, we launched some extraordinary youth-centered programs and events, we continued to grow our commitment to indigenous issues and opportunities, and we had the good fortune of being in a position to support some exceptional individuals – at all stages of their lives and careers.
We welcomed another inspiring group of scholars and students, from all across the two countries, who were granted Fulbright Canada Awards and Killam Fellowships. In addition, our Fulbright Canada Chairs program and the Killam Fellowships Program continued to expand to new universities in Canada and the United States. There are new Chairs at Johns Hopkins University, the University of Regina, the University of Guelph, Florida Polytechnic University, the University of Ottawa, and a very exciting new program that will bring four distinguished chairs to Carleton University each year (Read more…). At the same time have welcomed Miami Dade College, Florida Polytechnic University, and University of Hawai'i at Manoa as Killam Fellowship Program partners (Read more…). Supporting the students and scholars, while creating opportunities to enhance mutual understanding, and building connections among our institutional partners, is at the heart of our work. Further, in fostering these relationships, we help to ensure that the Canada-US relationship continues to be defined by a deep appreciation of one another and by strong personal and professional ties that lend themselves to collaboration on issues of importance to both Canada and the United States of America.
We were also pleased to play our part in honouring and celebrating Canada's Sesquicentennial – 150 years since confederation – and through these efforts play a role in bringing leaders together to reflect on a vision for Canada's future. Whether it was the Fulbright Canada Youth Institute on Canada in the World, the Young Indigenous Leaders Initiative, or the "Canada Inclusive/Exclusive 150 Years and Beyond" conference in London, academic, business, community, and indigenous leaders came together to champion diversity and inclusivity and play a positive and constructive role in Canada's approach to both global and local issues.
We are looking forward to a new year filled with a variety of exciting initiatives. The Youth Institute participants, 10 Canadian and 10 American students, will release their publication highlighting their recommendations on Canada's Role in the World. The second round of the Fulbright Arctic Initiative will kick off this spring at the inaugural meeting in Iqaluit. The third annual Canada Colloquium, an international colloquium entitled "Canada, the United States, and Indigenous Peoples: Sovereignty, Sustainability, and Reconciliation" is set to explore the complex issues surrounding sovereignty, sustainability, rights, and reconciliation for indigenous peoples and policies of the Canadian and American governments. We are pleased that distinct indigenous communities will play a key role throughout the colloquium, essential to ensuring the end result is constructive.
I would like to take this opportunity to thank my colleagues at the Secretariat, our alumni, our partners throughout the academic community, our private sector supporters, and our colleagues at Global Affairs Canada, the US Embassy in Canada, and the United States Department of State. Our successes this year would not have been possible without your ongoing support.
On behalf of our entire board of directors and my colleagues here at Fulbright Canada, I want to wish the entire Fulbright Canada community a happy holiday season and a healthy and productive new year.
Sincerely,
Michael Hawes
CEO, Fulbright Canada