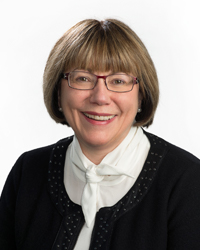 Hon. A. Anne McLellan P.C., O.C. served four terms as the Liberal Member of Parliament for Edmonton Centre from October 25, 1993 – January 23, 2006. She served as Deputy Prime Minister of Canada and as the first Minister of Public Safety and Emergency Preparedness in the government of the Rt. Hon. Paul Martin (December 2003 - January 2006). Ms McLellan served as Minister of Health (January 2002 – December 2003), Minister of Justice and Attorney General of Canada (June 1997 – January 2002) and Minister of Natural Resources and Federal Interlocutor for Métis and Non-Status Indians (November 1993 – June 1997).
Ms. McLellan joined Bennett Jones in its Edmonton office July 4, 2006. She provides strategic advice to the firm and its clients.
Ms. McLellan serves on the Board of Directors of Agrium, a global producer and marketer of agricultural nutrients and industrial products and a major retail supplier of agricultural products and services, Cameco, one of the world's largest uranium producersand Edmonton Regional Airport Authority, a financially independent, non-share corporation charged with managing the regions three airports. Among her many community commitments she serves as the Chair of the Royal Alexandra Hospital Charitable Foundation and is a board member of Habitat for Humanity Edmonton Society, Institute for Research for Public Policy, TELUS Edmonton Community Board and Edmonton Community Foundation Board. She served as a member of the Premier's Council for Economic Strategy where she provided "guidance on actions the Alberta government could take to best position the province for the future." She served on the Board of Nexen, a global energy company from 2006 until its takeover by CNOOC in 2013.
On May 12, 2006 she was appointed Distinguished Scholar in Residence at the University of Alberta in the Alberta Institute for American Studies. Ms. McLellan was awarded honorary doctorate of law degrees by both the University of Alberta (in 2007) and the University of Cape Breton (in 2009). In July 2009 Ms. McLellan was appointed an Officer of the Order of Canada.
Prior to her political career, Ms McLellan was an assistant professor of law at the University of New Brunswick from 1976 to 1980. In 1980, she was appointed associate professor of law at the University of Alberta. She served as associate dean of the Faculty of Law between 1985 and 1987 and as acting dean from July 1991 to June 1992.
She holds a Bachelor of Arts and a Law degree from Dalhousie University and a Master of Laws degree from King's College, University of London. Ms McLellan was admitted to the Bar of Nova Scotia in 1976.