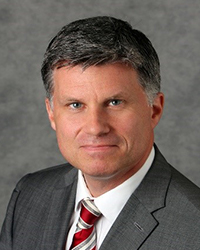 Cameron MacKay is Director General of the Trade Sectors Bureau at Global Affairs Canada.
From 2013-2015 he was Director General of the Department's Trade Negotiations Bureau, where he coordinated and supported Canada's bilateral, regional and multilateral trade negotiations. Before that role he was Director General for China Trade Policy. He was Canada's Ambassador to Costa Rica, Honduras and Nicaragua (resident in Costa Rica) from 2010 to 2012. Prior to that he was Director of Regional Trade Policy, and Canada's Chief Negotiator for free trade agreement (FTA) negotiations with Panama, the Central America Four (El Salvador, Guatemala, Honduras and Nicaragua), and Ukraine. Mr. MacKay served at Canada's Permanent Mission to the United Nations and the World Trade Organization in Geneva for the first five years of the WTO's Doha Round of global trade talks, from 2001-2006. In that role he represented Canada in areas including intellectual property, technical barriers to trade and government procurement, and concluded Canada's bilateral WTO accession negotiations with Vietnam. In his first five years in the foreign ministry he supported various bilateral negotiations with the United States, including on economic, border facilitation, fisheries and environmental issues.
In 2015 Mr. MacKay graduated from Ottawa University's two year, mid-career "Certificate Program in Public Sector Leadership and Governance". He also holds a Bachelor degree in Economics and Industrial Relations from McGill University in Montreal (1990), and a Master of Environmental Studies from York University in Toronto (1996). He speaks English, French and Spanish. He is married and has two teenaged children.