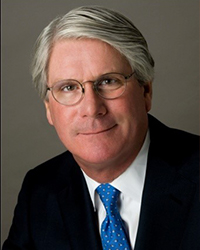 Jack Curtain is an advisory director in the Investment Banking Division of Goldman, Sachs & co. in New York. He also serves as chairman of Goldman Sachs Canada.
From 1995 to 1999, he was chief executive of Goldman Sachs Canada in Toronto. Prior to this assignment, he was co-head of Global Money Markets and chairman of Goldman Sachs Money Markets LP. He moved to Money Markets in 1987 after serving as head of Fixed Income Syndicate/ New Issues. Jack joined the firm in 1976 in the Corporate Finance Department and was named partner in 1988 and managing director in 1996.
Jack is a member of the Board of Directors of Cadillac Fairview Corporation, First Service Corporation, and the Art Gallery of Ontario Foundation. He is a former governor of the Toronto Stock Exchange; a former director of Brascan Corporation, Maxxcom Corporation and the Investment Dealers Association of Canada. He served as a trustee of Lakefield College School as well as Royal St. George's College.
Jack received his MBA from Harvard in 1976 and his BA from Williams College in 1972. He resides in both New York and Toronto.