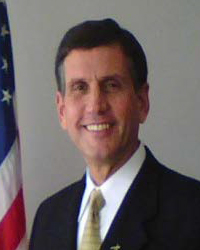 Ron Covais is the past-Vice President, International Operations, for Lockheed Martin Corporation's International Business Development. In this capacity, Ron lead the organization that is the primary interface between the Corporation, the U.S. Government, and Washington-based foreign government representatives on all international matters. Ron was also President of Lockheed Martin's Americas Region. In this capacity, he was responsible for all in-country business in Latin America, Canada, and the Caribbean.
In previous assignments, he was Director, International Strategic Planning, first at the Lockheed Fort Worth Company and then on the Lockheed Martin Corporate Staff. In that capacity, Ron was responsible for international strategic market planning, policy direction and business development in Latin America, Europe, Asia and the Middle East. He held a similar position at General Dynamics Corporation, with responsibilities in aircraft, land and space systems.
Ron is a retired U.S. Air Force officer who served in a number of positions including Political-Military Advisor to the Assistant Secretary of Defense for International Affairs and to the Secretary of Defense. His last active duty position was Director and Acting Deputy Assistant Secretary of Defense for Inter-American Affairs.
Ron received his undergraduate and graduate degrees in political science, international affairs and business from St. John's University in New York and Pepperdine University, respectively. He is also a graduate of the U.S. Army War College and the U.S. Air War College.
Ron serves on the Board of Advisors at George Washington University's Center for Latin American Issues, School of Business and Public Management. Ron is a member of the International Policy Committee of the U.S. Chamber of Commerce, also serving as the Chairman of the Western Hemisphere Task Force and is a member of the Presidential Advisory Board of the Association of American Chambers of Commerce in Latin America. Ron is a member of the International Institute for Strategic Studies in London.
Ron is on the Board of Directors of a number of institutions including: The Canadian American Business Council; The Canada-US Fulbright Program; The Executive Council on Diplomacy; and the World Affairs Council of Washington, DC. He is also the Co-Chairman of the North American Competitiveness Council leading the US business community interacting with the heads of state in the US, Canada and Mexico.