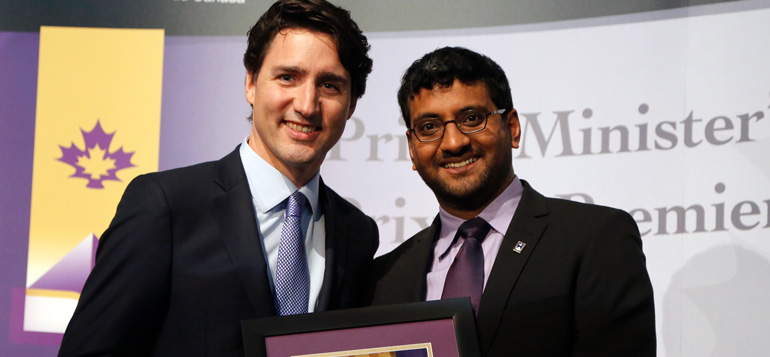 Anand Mahadevan was a Fulbright Student from 2009-2010 and, more recently, a recipient of a grant through the Fulbright Canada - US Embassy Ottawa Community Leadership Program (CLP). This program is designed to provide alumni with an opportunity to act as community leaders and volunteers and engage with local partners in a project, event, or program that would have a beneficial impact on the community. Anand used his CLP grant to help start the Bright Lights in the Lab Program.
Anand was selected as one of the ten recipients of the 2015 Certificate of Excellence at the Prime Minister's Awards for Teaching Excellence this month. These are the highest awards for teaching in Canada, making it all that much more special that the neuroscience summer camp for students, nurtured and grown in partnership with Fulbright Canada, the Firefly Foundation, and the University of Toronto, helped him win this award.
Anand has been an educator for nearly 15 years and while the days can be long and hard, the joy of watching a child's eyes light up when they figure out a solution to their problem never dims. He is very proud of all of his students and what they have accomplished over the years.
In Anand's words, "we [educators] are charged with the duty of crafting tomorrow's society through our students, and I am grateful to have the support of amazing collaborators and inspiring organizations like the University of Toronto, Firefly Foundation, and Fulbright Canada in this important task".
Bright Lights in the Lab
Every year, 60 some students from grades 6-12 attend Bright Lights in the Lab, a two-week summer camp where they learn about how the brain develops, functions, and breaks down during disease. They plan and perform their own experiments, visit research labs and libraries, and learn what it takes to become a scientist.
In 2015, Fulbright Canada and the U.S. Embassy Ottawa provided the seed funding for the first scholarships to help students from priority neighbourhoods in Toronto attend Canada's only research-based neuroscience summer camp for school-aged kids. This grant was vital to unlocking other opportunities and supporting the needs of students who would normally never consider going to summer camp, much less science camp. This year, Anand and his colleagues have raised nearly $12,000 to support deserving students who want to jump start their careers in Neuroscience.
Congratulations Anand!