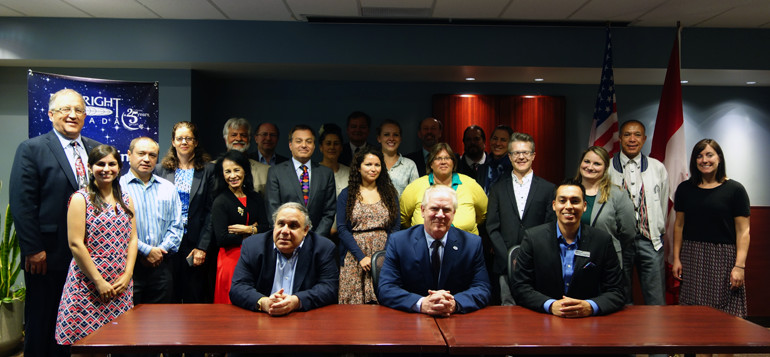 On May 25th 2016, senior administrators, tribal college representatives, faculty members in Native American and Indigenous Studies departments, and representatives from study abroad offices in Canada and the United States, came together with a common goal of exploring challenges and opportunities surrounding the development of study abroad programs for indigenous students.
The common thread was a recognition that we are at a moment of incredible opportunity. In his keynote address, Dr. Mike DeGagné, President and Vice-Chancellor of Nipissing University explained that "this is really a time of renaissance for the aboriginal education community; it is a time of incredible advancement." Recognizing the need for continued changes, he stressed two key recommendations from the Truth and Reconciliation Commission Report: (1) foster intercultural communication and dialogue; and, (2) reimagine the systems negatively affecting indigenous people and lives.
Many institutions are prioritizing access to higher education, and this shift must include an additional push for programs capable of enriching the overall experience of indigenous students, such as study abroad programs. Further, these programs can stimulate outlets for intercultural communication and lead to mutual understanding both for the student and the communities they join during their exchange – a recognized need at this point in time.
In many ways, the workshop acted as a springboard for individual educational institutions and organizations in Canada and the United States to recognize the value of developing partnerships in this shared endeavor. Common challenges, lessons learned, and solutions were shared and a network was established to pave the way for partnerships capable of providing study abroad programs that recognize the unique experiences and provide support to indigenous students.
Fulbright Canada would like to thank the U.S. Study Abroad Office in the Office of Global Educational Programs at the U.S. Department of State for their support in running the event and all of the participants for their engagement and for sharing their ideas and experiences.
Fulbright Canada is looking forward to continuing the conversation and supporting programs that improve access to study abroad programs for indigenous students
If you have any questions about this event, please contact:
Martha Vrany
Executive Assistant to the CEO