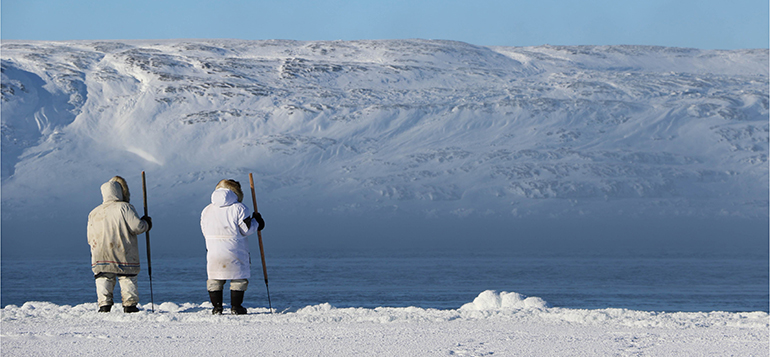 The Google.org Impact Challenge has announced 10 Canadian non-profits that will share $5 million in funding for innovative use of technology. We're excited to announce that there's a Fulbright connection! The Arctic Eider Society has been selected as a finalist for their SIKU project, which evolved from a prototype that was created during Dr. Joel Heath's Fulbright Canada Visiting Chair in Arctic Studies at the University of Washington from 2014-15.
Named for the Inuktitut word for sea ice, SIKU is an Inuit knowledge wiki and social media-style mapping platform that will provide novel ways to document and mobilize Inuit and scientific knowledge to improve safety, knowledge transfer, language preservation, education and environmental stewardship. SIKU's tools and services are uniquely designed to meet the needs of northern communities with a user-friendly social media interface. Information shared on the platform will contribute to a living wiki of Inuit knowledge to be used by communities for their own benefit. SIKU will also become a one-stop shop for the latest satellite images and weather data, making it easier for coastal communities to make informed decisions about navigating on the land and sea ice.
Public voting for the Impact Challenge runs until March 28. Finalists are guaranteed a minimum contribution of $250,000. The winner of the public vote receives an additional $500,000.
In addition to the web infrastructure, the funding will be used to support community participation in project development and testing, workshops with Inuit organizations, communities and students in project development as well as inclusion of additional education, training and knowledge resources. The platform will be open source and developed to maximize benefit for Inuit communities and organizations. The Arctic Eider Society is enthusiastic to build new partnerships and make the platform as useful as possible for the northern communities, particularly for community-driven research projects and environmental stewardship efforts.
Learn more about the project and help spread the word at: www.VoteSIKU.com
You can vote directly here until March 28th: https://impactchallenge.withgoogle.com/canada2017/charity/arcticeider