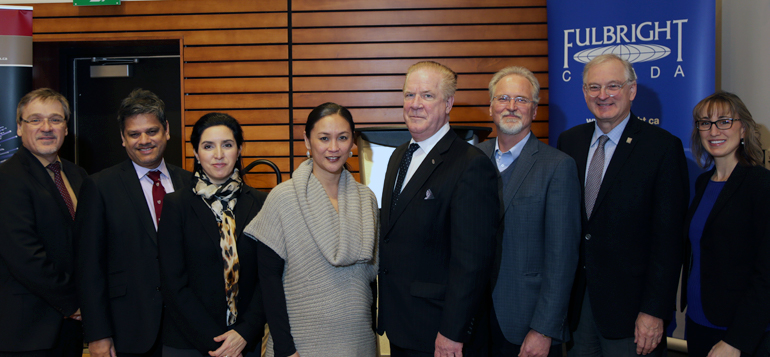 Fulbright Canada Research Chairs, Dr. Korina Jocson, and Dr. Dee M. Williams were given an opportunity to share their experiences as Fulbright Canada Research Chairs at the University of Ottawa at a wonderful event hosted by the University of Ottawa on April 4, 2017.
Jacques Frémont, President and Vice-Chancellor of the University of Ottawa, and Fulbright Canada CEO, Dr. Michael Hawes, attended and spoke about the ability of the partnership between Fulbright Canada and the University of Ottawa to enrich the researchers, the university community, and more broadly, help to foster cross-cultural idea exchange and collaboration. Dr. Monica Gattinger, Director of the Institute for Science, Society and Policy (ISSP), and Viviana Fernandez, Assistant Director of the Human Rights Research and Education Center (HRREC) also spoke, representing the two Research Centers where the chairs were hosted.
The Research Chairs

Dr. Korina Jocson, on the left, visiting from the University of Massachusetts Amherst, is the Fulbright Research Chair in Human Rights and Social Justice. Her research project is entitled "Youth Media Making, Learning Opportunities, and Social Justice in Ottawa." She is examining the intersection between literacy, youth innovation in media making, and the impact this has on civic engagement. Her experience at uOttawa has enabled her to explore an interdisciplinary and comparative analysis of youth media making in Canada and the United States. She thanked the University of Ottawa and HRREC for their support and, as a foodie, praised Ottawa for its good restaurants.
Dr. Dee M. Williams, on the right, visiting from the United States Geological Survey, is the Fulbright Research Chair in Science and Society. His project, which focuses on science and the north, is entitled "Traditional Knowledge Integration with Science." He is looking to advance a better understanding of the challenges surrounding the effective inclusion of indigenous knowledge in Arctic research, science, and regulatory policies. He praised the efforts the ISSP and thanked them for making his time in Ottawa so rewarding. He paid particular attention to the introductions to key scholars and practitioners and the synchronicity between the ISSP's research goals and his own.
President and Vice-Chancellor, Jacques Frémont, announced that he was thrilled the Fulbright Canada chair program is set to expand at the university going from 4 Fulbright Chairs to 6 in 2018. Dr. Michael Hawes, CEO Fulbright Canada, was equally enthusiastic about the vibrant partnership between Fulbright Canada and the University of Ottawa.
Since 1990, the University of Ottawa represents a strong and long-standing institutional partner to Fulbright Canada. The university has welcomed outstanding students and scholars from the U.S. through Fulbright Canada's programs: Fulbright Scholar Program, Fulbright Student Program, Killam Fellowship Program, and the Specialists Program. Further, University of Ottawa students and scholars have received the prestigious Fulbright and Killam awards to study, research or teach in the United States.